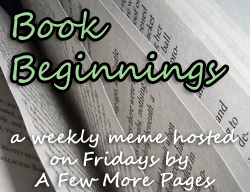 It's Friday again, so here is my Book Beginnings on Friday!

Katy, over at
A Few More Pages
, hosts this every week and we thought it'd be fun to have Book Ponderings join! If you are interested in doing this for your blog, check out Katy's blog for details on what to include in the post!
It was stillness.
That's what they remembered most about the beginning. A stillness that hung like ancient mold in the trees. But who could forget anything about Wind Sunday? The sharp acrylic memories painted themselves on their hearts and refused to dry. And ever after, touching the canvas brought tears.
On Wind Sunday, there were secrets to be learned.
This beginning makes me want to dive in and learn what on earth is going on. It's very intriguing and makes you think...I can't wait to read more of this book!
We'd love to hear what's the first line - or paragraph - of your current read. Feel free to share it with us in the comments! Are you liking the book so far? Was the first few lines enough to grip your attention? We're looking forward to hearing from you! :-)