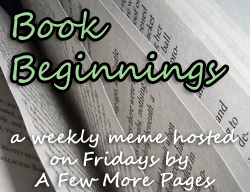 It's Friday again, so here is my Book Beginnings on Friday!

Katy, over at
A Few More Pages
, hosts this every week and we thought it'd be fun to have Book Ponderings join! If you are interested in doing this for your blog, check out Katy's blog for details on what to include in the post!
The Hunter, rifle in his hands, dug in a heel and came to a sudden halt on the game trail, motionless, nearly invisible in a thicket of serviceberry and crowded pines. He heard something.
The first rays of the sun flamed over the ridge to the east, knifing through the pine boughs and morning haze in translucent wedges, backlighting tiny galaxies of swirling bugs. Soon the warming air would float up the draw and the pines would whisper like distant surf, but in the lull between the cool of night and the warmth of day, the air was still, the sounds distinct...
~~
While this beginning doesn't stop your breath and grab your attention, the description is so crisp and clear. And the reader becomes curious at what the 'something' is that the Hunter hears. Who is the Hunter,

for that matter? His name is never mentioned in the first chapter, so you are left wondering who has done this deed....
I will say no more! :-) Go grab the book at your local library or own it for keeps through Amazon.com
. It's one of my favorite Peretti books! :-D
We'd love to hear what's the first line - or paragraph - of your current read. Feel free to share it with us in the comments! Are you liking the book so far? Was the first few lines enough to grip your attention? We're looking forward to hearing from you! :-)