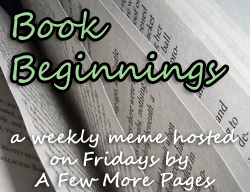 It's Friday again, so here is my Book Beginnings on Friday!

Katy, over at
A Few More Pages
, hosts this every week and we thought it'd be fun to have Book Ponderings join! If you are interested in doing this for your blog, check out Katy's blog for details on what to include in the post!
The passenger door slammed, the vibration rippling through his bones, like a skeleton rattled by the wind. He shook his head. Dark thoughts and a sense of foreboding. Things had to happen. Fast.
Before that foreboding became reality.
~~
Ohh! This promises of adventure and suspense to come! :-) I am intrigued and can't wait to find out why things have to happen fast. And what foreboding thoughts could become reality.
We'd love to hear what's the first line - or paragraph - of your current read. Feel free to share it with us in the comments! Are you liking the book so far? Was the first few lines enough to grip your attention? We're looking forward to hearing from you! :-)