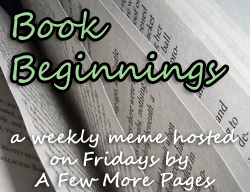 It's Friday, so here is my Book Beginnings on Friday! Katy, over at
A Few More Pages
, hosts this every week and we thought it'd be fun to have Book Ponderings join! If you are interested in doing this for your blog, check out Katy's blog for details on what to include in the post!
Emily stood behind the counter of her family's country store, watching as the tall man walked down each isle, the top of his black felt hat visible above the gray metal shelving. First thing that morning, he'd strolled in and shot her a slow, easy smile, white teeth dazzling against bronzed skin. He moved slowly, sometimes glimpsing in her direction.
Emily twisted the string on her apron with both hands and tried to slow down her breathing. Her heart pulsed against her chest as she glanced out the window toward her family's farmhouse in the distance. Where is Jacob? her brother knew she didn't like to be left alone in the story, and he'd promised to be right back.
I like this beginning because, in the first paragraph, everything seems normal. There is some guy looking for stuff in her family's store. Nothing odd with that, right? But then in the second paragraph we instantly get a wary, fearful reaction from Emily as she longs for her brother to be there. The tension continues to build as Emily gets more agitated and fearful of the stranger.
Instantly, I'm wondering what could possibly be the matter with Emily that would make her scared of the stranger. This is a really neat beginning for an Amish book -- not something I really see with other Amish books. And the rest of the book was just as good as the beginning. I enjoyed this from start to finish!
We'd love to hear what's the first line - or paragraph - of your current read. Feel free to share it with us in the comments! Are you liking the book so far? Was the first few lines enough to grip your attention? We're looking forward to hearing from you! :-)