If any of you saw yesterday's book review for a little before it disappeared, or visited our blog last night and couldn't see a new post....Blogger decided to have a little attitude problem and kicked all us bloggers off our blogs so that we couldn't even try to write a post or anything! It wouldn't let us comment on any posts and even deleted some posts that we written earlier yesterday (which is why you cannot find our book review that we posted yesterday).
But, thankfully, it is back up and running this morning. Today is actually Kait's turn to post our Book Beginnings, but since she couldn't get on earlier to write it and is now busily engaged with setting up for her graduation ceremony tomorrow...I will be your host! :-D So let's get started!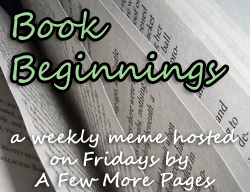 As you all know, when Friday rolls around Book Pondering joins in the weekly post, Book Beginnings on Friday! Katy, over at
A Few More Pages
, hosts this every week and it's always fun to participate in this! If you are interested in doing this for your blog, check out Katy's blog for details on what to include in the post! Today, Kait picked out Riven
by Jerry Jenkins.
Adamsville State Penitentiary - Death Row
With the man's first step, the others on Row began a slow tapping on their cell doors.
The tiny procession reached the end of the pod, and the rest of the way through security and all the way to the death chamber was lined on either side by correction officers shoulder to shoulder, feet spread, hands clasped behind their backs, heads lowered. As the condemned reached them, each raised his head, snapping to attention, arms at his side, feet together.
What a tribute, he thought. Who would have ever predicted this for one who had, for so much of his life, been such a bad, bad man?
Since Kait isn't hear and didn't tell me what she liked about this beginning, these will be my thoughts on it. :-) It is such a powerful beginning. I am already wanting to know who is this man who is on his way to his death. The feeling you get from the writing is cold and grim. I can almost feel the chill that is probably in the air as this condemned man walks down corridor between cells of other inmates who will, ultimately, be traveling the same way soon. Sobering! This opening definitely makes you want to continue!
We'd love to hear what's the first line - or paragraph - of your current read. Feel free to share it with us in the comments! Are you liking the book so far? Was the first few lines enough to grip your attention? We're looking forward to hearing from you! :-)