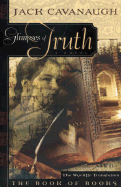 When I first found the book,

Glimpse of Truth
, it seemed like an intriguing read! After finishing the book, I still agree with my first thoughts - it had a wonderful story! Not only is it about the life of Thomas Torr, but it's also about the Wycliffe translations. Thomas is one of John Wycliffe's translators who helped turn the Latin Vulgate into English. This little glimpes into Wycliffe's work encouraged me to look into it a little bit more!
The Wycliffe Translations approximately from 1382 – 1395. Because of these translations that were given and read to many of the common people, they were the chief inspiration and cause of the Lollard movement (This was a pre-reformation movement that rejected many of the distinctive teachings of the Roman Catholic Church.)
During the time the Wycliffe Translations began to be distributed, the common person didn't know how to speak Latin, so many had never read the bible – but commit as many bible verses as they could recall to memory. Though many people still couldn't read at this time, the translation of the bible into English helped spread common knowledge of the bible.
During this time, the Church didn't leave Wycliffe alone, however, and often made as much trouble for him, his assistants and distributors as possible. They even strove to bring Wycliffe in and kill him as a heretic. But before this could happen, Wycliffe died around the age of 64.
The advancements of spreading the gospel often cost a lot, and Wycliffe was not an exception. Because of his work, many common people, who had never been able to read the bible in their own tongue, were able to read and memorize vast proportions of scripture. Because of this added knowledge, they were able to defend their faith and grow stronger and closer to the Lord.
Sometimes we don't remember how much hardships and trials men went through so we can own our own Bible. But they scarified and gave a lot – often even giving their own life. Men like these are priceless in the advancement of the gospel.
~ Katy