Hey everyone! This week I decided to talk about a new book I recently read called
Code Triage
, by Candace Calvert. As always, I have some questions that you're welcome to share your thoughts on - or you can join in by asking your own questions, and I'll answer them! We love to hear your thoughts on books!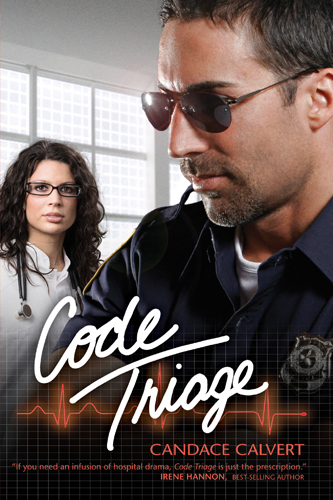 I have never read a book by Candace Calvert before, but the third book in the Mercy Hospital series is great! With a mixture of suspense, action, and a heart-felt story about a marriage that a man wants so desperately to save after he hurt his wife. Reminded me of the movie Fireproof, except with a whole different story and plot - it was great!
After Nick Stathos sends his marriage towards divorce when he has an affair with his deceased best friends sister, he wakes up to the sin he's committed and confesses it to his wife. Angry at him turning to another woman, Liegh is determined to file for divorce and leave Nick and Golden Gate Mercy Hospital - where she works as an ER doctor - behind. But after a lot of counseling from his pastor, and asking the Lord's forgiveness for his failings, Nick wants to give his marriage another chance...he just needs to convince Liegh to also try again...
The events that take place in the ER were interesting to read - all the quick, life-changing decisions that Liegh needs to make in order to save a life. It was really neat to peep into the life of an ER doctor. And following Nick around on his missions of mercy to the Johnson family was touching.
There is one caution I would give - younger readers might not be read for this book. Nick has an affair with another woman, and although this scene is done months before the book opens up, there is still talk of it, and other acts done by married couples within marriage. But for older teens and adults, it was a good story about being faithful in marriage.
Besides this, I enjoyed the book from cover to cover - finishing the book in one day! It was a great read and I am sure I will read it again very soon!
---
1) In the opening scenes of the story, you get a pretty good idea of Nick Stathos' character when he says, "I don't give up. Ever." He didn't want to give up on his crumbling marriage either. What would you think about a guy like that?
Nick made a mistake, but God forgave him. God washed Nick of all his sins, and all Nick wanted to do after that was prove to his wife that he was a changed man. A guy who so admittedly loves the Lord and you, and willing to do anything to show his love....is a very special guy! ;-)
2) Leigh Stathos, wife of Nick, is an ER doctor. Her busy schedule and job make marriage difficult, especially having a family. Would you be willing to give up your career to raise a family?
Work and bringing in money, especially when it's something you love - like Liegh, with being an ER doctor - must be satisfying. But my natural instinces would want to raise my kids, be at home when my husband is finished with work, and spend the evenings with my family. God made women to have babies and raise them - "Be fruitful and multiply..." - and that's the calling I want!
3) Samantha Gordon is a social worker for Child Crisis. Her own young daughter encourages her to protect other kids from bad families. Seeing young Kristi determinedly trying to raise two kids by herself, she's encouraged to be there for her daughter - to do anything for her. Do you feel the same?
I don't have a kid, but I have seven sisters and two brothers - one brother and six sisters younger than myself - and I'd do anything to keep them safe. I imagine I'd feel even more strongly about the matter if it was my own flesh and blood.
If you are interested in purchasing Code Triage, go HERE
to get it for under $10!
~ Katy
---