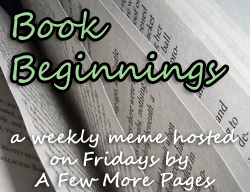 It's Friday, so here is my Book Beginnings on Friday!Katy, over at
A Few More Pages
, hosts this every week and we thought it'd be fun to have Book Ponderings join! If you are interested in doing this for your blog, check out Katy's blog for details on what to include in the post!
Shelby Sieger sat straight up in bed, clutching her pillow. Trembling. Had she called out again--or imagined it? She clamped her eyes shut and listened. Had she awakened anyone else at the Woodmore House?
An entire minute passed without a sound. She threw back the covers and slid her legs over the side of the bed, groping the nightstand until she found the thin metal chain on the lamp--and pulled it. Sicty watts instantly transformed the room. Why should a twenty-seven-year-old woman feel safer with the light on?
~~
While it isn't a heart-pounding beginning, it certainly intrigued me to keep reading! :-) I cannot wait to be able to read the rest of this book. I haven't ever read anything by Kathy Herman, but I have heard a lot of good things about her book. So...we shall see! :-)
We'd love to hear what's the first line - or paragraph - of your current read. Feel free to share it with us in the comments! Are you liking the book so far? Was the first few lines enough to grip your attention? We're looking forward to hearing from you! :-)