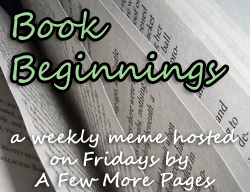 It's Friday, so here is my Book Beginnings on Friday!Katy, over at
A Few More Pages
, hosts this every week and we thought it'd be fun to have Book Ponderings join! If you are interested in doing this for your blog, check out Katy's blog for details on what to include in the post!
How does one describe Artemis Fowl? Various psychiatrists have tried and failed. The main problem is Artemis's own intelligence. He bamboozles every test thrown at him. He has puzzled the greatest medical minds, and sent many of them gibbering to their own hospitals.
There is no doubt that Artemis is a child prodigy. But why does someone of such brilliance dedicate himself to criminal activities? This is a question that can be answered by only one person.

And he delights in not talking.
~~
This immediately makes you want to know who this Artemis guy is. Criminal activities? Exceptional intelligence? Who is this kid?! And as you continue reading through the prologue and into the first chapter, you learn a lot about Artemis - he's quite the character! But I shall stop here so I don't give anything away. ;)
We'd love to hear what's the first line - or paragraph - of your current read. Feel free to share it with us in the comments! Are you liking the book so far? Was the first few lines enough to grip your attention? We're looking forward to hearing from you! :-)