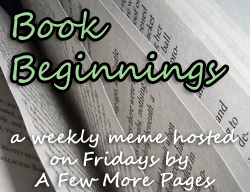 As you all know, when Friday rolls around Book Pondering joins in the weekly post, Book Beginnings on Friday! Katy, over at
A Few More Pages
, hosts this every week and it's always fun to participate in this! If you are interested in doing this for your blog, check out Katy's blog for details on what to include in the post! Today I chose The Brotherhood!

1 : 5 8 a . m . , F r i d ay , De c e m b e r 1 6 , 2 0 1 1
"Wanna take this one yourself, Rook?"
Boone Drake shot his partner a double take. The 911 dispatcher had broadcast a domestic disturbance in progress at
a seedy apartment building on West Jackson Boulevard in
Chicago's most dangerous precinct, Harrison, District 11.
"Myself?"
"I mean take the lead," Jack Keller said, eyes fixed on the
pavement as he maneuvered the blue and white Crown Vic
squad through icy streets. "I'll have your back."
This was an awesome opening that immediately grabbed my attention. A rookie cop going in for his first job on his own? Immediately the suspense grabs you and makes you curious about what is to happen. The following pages continue to pull you into this action-filled, sobering story. I can't wait to finish that one!
We'd love to hear what's the first line - or paragraph - of your current read. Feel free to share it with us in the comments! Are you liking the book so far? Was the first few lines enough to grip your attention? We're looking forward to hearing from you! :-)