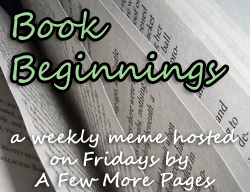 It's Friday again, so here is my Book Beginnings on Friday!

Katy, over at
A Few More Pages
, hosts this every week and we thought it'd be fun to have Book Ponderings join! If you are interested in doing this for your blog, check out Katy's blog for details on what to include in the post!
Ami Grandle clutched the stuffed teddy bear to her chest and watched her house burn. Acrid smoke enveloped the waning moon overhead. Hungry flames licked at her bedroom curtains, the blue and white ones that her mother let her pick out at K-Mart in downtown Brighton. Soon the second floor dissolved into a sea of orange. Her mother's screams penetrated the night, muffled from inside the inferno. Certainly, she thought, her mother would make it out alive. "Mom!" she screamed. Should she go back for her?
Wow! That's an intense way to begin this book. Now I can't wait to dive into All I'll Ever Need. I liked the twist of Ami taking in the things about the fire, and then we suddenly discover that her mother is inside. That's staggering! Certainly hooks the reader right off!
We'd love to hear what's the first line - or paragraph - of your current read. Feel free to share it with us in the comments! Are you liking the book so far? Was the first few lines enough to grip your attention? We're looking forward to hearing from you! :-)