As I was reading the book "A Fragile Design" by Tracie Peterson and Judith Miller, I became very curious about the Industrial Revolution, as it was a time frame I knew very little about.
From what I have been able to learn, the Industrial Revolution in America took place from 1876 – 1900. What's known as the first Industrial Revolution took place in 1750 through 1830 in Great Britain.
An Industrial Revolution takes place when a large amount of farmers and people who work and live in the country leave to work in factories and live in the city. This can be both good and bad. More goods are able to be made with people working at the mills and factories, but it also brought crowded citys, pollution, and child labor issues.
Many thought they were coming to a wonderful new job and life, but a lot of people's hopes were dashed when they arrived and saw that it was not as grand as it was made out. You were expected to work long doing very hard work with little pay. Many children never received any education because their family needed the income from their work to live.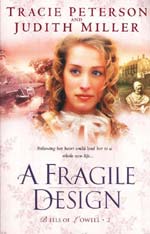 It was really neat to read about Arabella Newberry and her life in this timeline. She herself worked at a mill in the book and it was very interesting to read all about life in that time. Not only do you get to learn a lot about the Industrial Revolution, but Arabella, before she moved to the city, was a Shaker and it was interesting to learn a bit about their culture in the book also. If you like history, romance, and drama all rolled into one gripping book, I'd encourage you to get "
A Fragile Design (Bells of Lowell Series #2)
!